Woodmansterne Art Conservation Award enables Walter Ralegh's coded desire for Elizabeth 1 to be revealed
Wednesday, 9 October 2013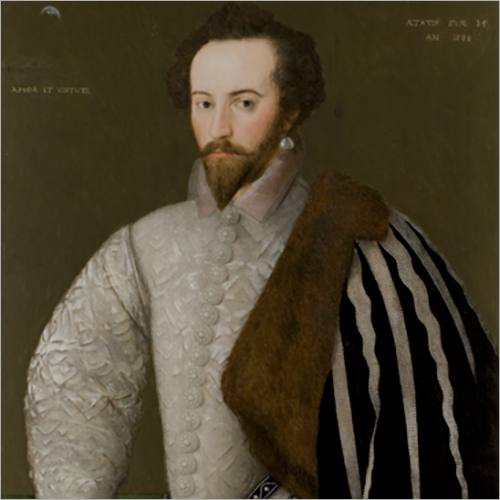 Conservators at the National Portrait Gallery have uncovered a small painted passage of wavy blue water in a portrait of Sir Walter Ralegh which reveals the court explorer's devotion to Queen Elizabeth I.
The painting which belongs to the National Portrait Gallery and features in the exhibition has, through the generosity of the Woodmansterne Art Conservation Awards, been painstakingly conserved and centuries of old over paint have been removed.
The painting, which belongs to The National Portrait Gallery, was one of the major works chosen by our panel of judges at the last round of the Woodmansterne Art Conservation Awards. A donation of £10,000 was pledged which has enabled the process of painstaking conservation, removing centuries of over paint, to reveal the coded message incorporated into the work by the unknown English artist.
The discovery was made during the making of the Gallery's forthcoming exhibition Elizabeth I & Her People (10 October 2013 - 5 January 2014), supported by The Weiss Gallery, which opens tomorrow.
Woodmansterne's Managing Director, Paul Woodmansterne, was invited by Sandy Nairn, the director of The National Portrait Gallery, to witness the conservation work first-hand as it was carried out during the summer. This evening, Paul and his family will attend a private viewing prior to tomorrow's opening to view the exciting final result.
To find out more about the exhibition, visit the official National Portrait Gallery site.
Left to right: Detail of moon and newly discovered sea from top left of portrait; Sir Walter Ralegh Unknown English artist, 1588 (c) National Portrait Gallery