Inside The Factory Christmas Special
Friday, 21 January 2022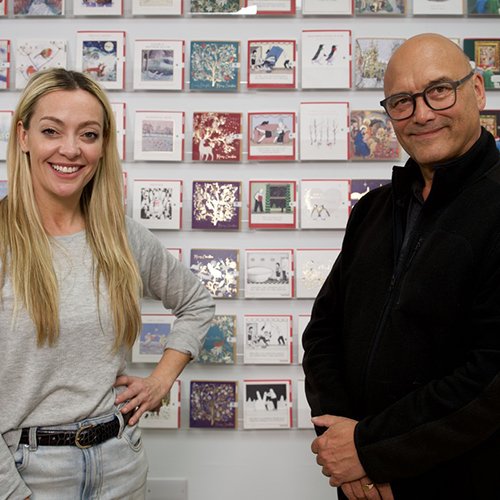 Showing on Wednesday 22nd December, 9pm, BBC2
We're excited to announce that we are starring in the Inside the Factory Christmas special on Wednesday 22nd December, 9pm, BBC2. In this Christmas Special Gregg Wallace visits our factory in Watford, following one of our bestselling Christmas cards, The Red Stag. 
We Brits spend a staggering 1.7 billion pounds on cards annually, but we are really enthusiastic for greetings in the festive season! Spending a whopping 900million pounds on them every year. The process begins with a delivery of 1.2 million sheets of sustainable Italian paper or board. Gregg then makes the printing plates that he will use to transfer his design onto them using the Rolls Royce of printing presses! Loading this huge 23 tonne machine with rich vibrant inks is like spreading jam on toast and when it's fired up, it prints a whopping 10 cards per second. Using blisteringly hot metal dyes, foil is then pressed onto the cards, before they are cut to size by a laser sharp guillotine that terrifies Gregg! The finished cards go to the factory's giant Xmas card grotto which can hold 9 million of them, before they are shipped out to retailers across the UK and as far afield as Australia and Singapore!
"We are delighted that the BBC were so excited to capture the work and wonder that goes into making Christmas cards. Visitors to our factory are always surprised at the range of processes and the level of intricacy, detail, and care that we apply when manufacturing our cards. It was lovely to share this with Gregg and viewers!
Of course, distilling this into a short programme with an easy-to-understand story can lead to some interesting versions of reality; my knuckles have just about recovered from opening 20 times the side curtain of a paper delivery lorry for one scene – not a regular part of my day job! I'm really proud that the industry is being represented at Christmas (especially in these unusual times) and that the value of people connecting in meaningful ways with loved ones has been reinforced."
Seth Woodmansterne, Managing Director
Make sure you tune in.