Christ Displaying his Wounds, attributed to Giacomo Galli
Tuesday, 8 July 2014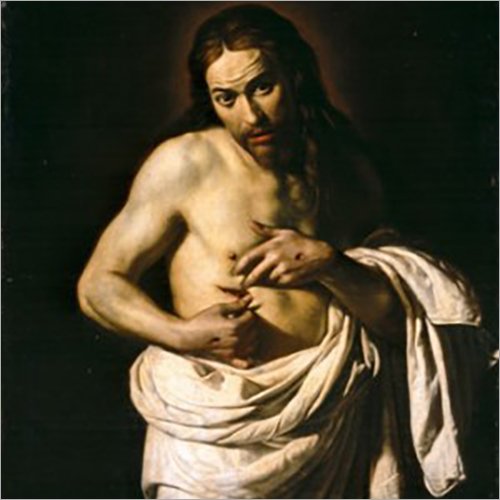 One of the Woodmansterne Art Conservation Awards for 2012/13 was awarded to Perth Museum & Art Gallery to conserve 'Christ Displaying his Wounds', attributed to Giacomo Galli - a rare and beautiful example of art styled after the work of Caravaggio.
Galli, also referred to as 'Lo Spadarino', was born in Siena in 1597 and died in Rome 1649. Little is known about him and he produced only a small number of works, and of these only a handful survive in Italy, making the painting in Perth a significant example of his art surviving in the UK.
The painting came into the collections of Perth Museum & Art Gallery in 1862 as a gift of Colonel William Macdonald Macdonald, Laird of St Martin's. He was a former Lieutenant-Commandant of the Black Watch, an ambitious politician and prominent local figure in Perthshire, as a JP and Depute Lord-Lieutenant. He also undertook charitable works in the local area.
Dundee-based conservators Egan, Matthews & Rose spent several months on the work, which involved removing the canvas from its original stretcher and cleaning the painting. The newly conserved work was returned to display later in 2012 at Perth Museum & Art Gallery.
The Woodmansterne Art Conservation Awards were decided by a panel of experts including Alexander Lord Antrim (former Head of Conservation at Tate), Rupert Featherstone (Director of The Hamilton Kerr Institute), Nicola Christie (Senior Paintings Conservator at the Royal Collection) and Janet Tamblin (former Head of Conservation at Plymouth City Museum & Galleries).
Perth & Kinross Council's Lifelong Learning Convener, Councillor Bob Band said: "We are delighted to have been chosen to receive this important art conservation grant. It is a continued reflection of our aim for high standards in conserving and caring for our permanent museum and art collections".